TRAINING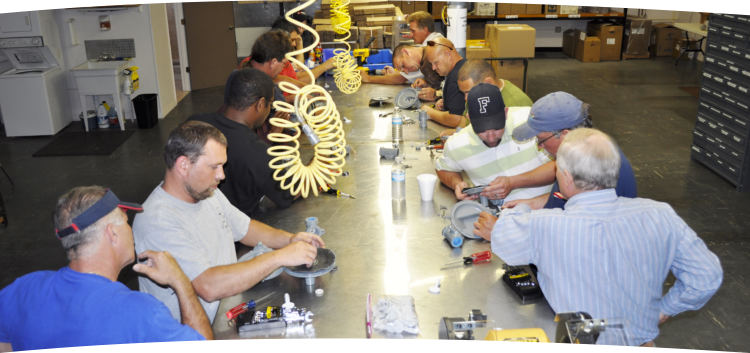 2017 Schedule
Honeywell American Meter Measurement School-Council Bluffs, IA: April 25-27, 2017
Honeywell Smart Energy is offering a 3-day Measurement School in Omaha, NE at the Doubletree Downtown and at the Honeywell American Meter facility, Nebraska City, NE. Classes begin at 8 a.m. on Tuesday, April 25th and conclude at 2:30 p.m. on Thursday, April 27th.
Accommodations are available at the Doubletree Downtown for a special rate of $134 plus tax per night. Please identify yourself with 2017 Council Bluffs School and ask for the special rate when reserving your room. Room reservations must be made by Monday, April 3rd to receive this rate.
Registrations for the school are due by April 3rd and space will be limited, so make plans to attend now. Registrations accompanied by a credit card or check will be given first priority for enrollment. Cancellations must be made prior to April 3rd to receive a full refund of the registration fee. A waiting list will be set up to fill any cancellations.
List of Classes
Measurement Fundamentals
Diaphragm Meters
Rotary Meters
Turbine Meters
Ultrasonic Meters
Proving
Fundamentals of Regulation
Regulators: Sizing, Selection, & Application
Plant Tour
Pressure Protection Methods
Hands-on Diaphragm Meters
Hands-on Rotary Meters
Hands-on Turbine Meters
Hands-on Regulators
» Click here for a registration form (PDF format)
---
Basic Corrosion: May 16th-19th, 2017- Devtech's Jim Estilette Training Center
This is a 3 1/2 day course covering the following topics: Ohm's Law, electrical circuits, corrosion control methods, coatings, insulation, cathodic protection, impressed current protection, electrical shielding, stray current interference, AC mitigation, instruments for corrosion testing, soil resistivity measurement, current interrupter, pipe locator, short locators, thickness gauges, wire reel, half cells, insulation testers and code - DOT and PSC.
» Click here for a registration form (MS Word format)
---
Honeywell/Instromet 2017 Ultrasonic Meter School - Houston, TX: May 23-26, 2017
Honeywell is offering 2-day Ultrasonic meter schools at our new facility in Houston, Texas.
Registration is limited and priority enrollment will be given to registrations accompanied by credit card or check. Full refunds will be given to cancellations made on the Friday before the start of the class.
Topics Covered Include:
Theory of Ultrasonic Meters
Components of an Ultrasonic Meter
Selection and Sizing
Software Training
Commissioning and Setup
Monitoring of Performance
Upgrading
Hands-On Session
» Click here for a registration form (PDF format)
---
YZ NJEX Odorization System School: August 22nd-23rd, 2017- Devtech's Jim Estilette Training Center This school will cover the operation of mechanical and electronic components of the NJEX Series of odorization systems including Sentry 4 software, DTEX odorant detection system, and Cyclone meter lubrication system. This school is ideal for those that operate, specify, and/or make odorization equipment decisions
» Click here for a registration form (Word format)
---
For more detailed information about our training seminars, please choose from the list below: