TRAINING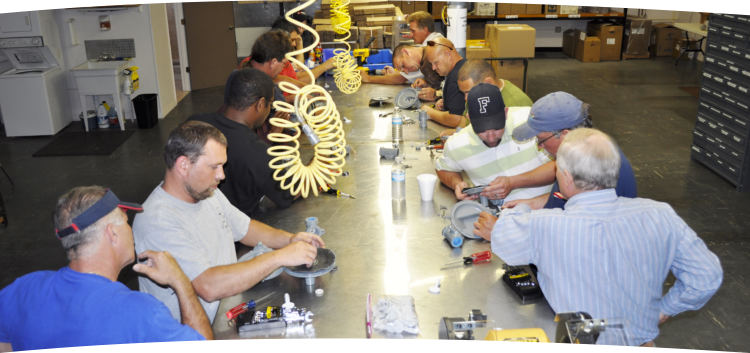 2016 Schedule
Gas Measurement School: March 1-2, 2016 - Devtech Training Center
This is a 2 day course focusing on the fundamentals of gas measurement. Topics include the function and handling of gas meters, sizing, pressure limits and capacities, pressure and temperature calculations, and explanation of error caused by measurement loss.
» Click here for a registration form (MS Word format)
---
Gas Regulator School: March 3-4, 2016 - Devtech Training Center
This is a 2 day course concentrating on gas regulators. Topics include function, construction, operation, capacities, and sizing of gas regulators as well as pertinent DOT and PSC regulations. It is suggested that students attend our Gas Measurement School prior to enrolling in this course.
» Click here for a registration form (MS Word format)
---
Gas Valve & Actuator School: April 12th-13th, 2016 - Devtech Training Center
This is an advanced gas valve 2-day school designed for engineers and field technicians with responsibilities for pipeline and gate station valves. Topics include: technical description, operation, maintenance, troubleshooting of ball, gate and plug type valves and valve actuators and controls. Instructors are from Cameron (including Grove), Cameron Valve Automation (Ledeen), Val-Tex, and devtech.
» Click here for a registration form (MS Word format)
---
Ultrasonic Meter Training: Various Dates throughout 2016 - Houston, TX
Series II-IV: April 13-14, June 8-9, October 18-19
Q.Sonic + and Series VI Upgrade School: April 6-7, June 15-16, October 20-21
Elster Instromet is offering 2 days Ultrasonic Meter School at its new facility in Houston, Texas. Various dates available in April, June and October of 2016. Topics covered include: theory of Ultrasonic Meters, components of an Ultrasonic Meter, selection and sizing, commissioning and setup, monitoring of performance, upgrading, and hands-on session
» Click here for the training flyer (PDF format)
---
Measurement School: April 26th, 27th, and 28th, 2016 - Council Bluffs and Nebraska City
Honeywell American Meter will conduct the 2016 Council Bluffs school this year on April 26, 27, and 28 in Council Bluffs and Nebraska City. Cost will be $750 for the registration and includes all meals, transportation, and class material. Lodging will be at Harrah's in Council Bluffs as in the past and at the same rate of $99 plus tax per night. We will be conducting the classes on Tuesday and Wednesday at the Mid-America Center. Attendees will still be able to register and pay through the Elster Gas Depot website at http://www.totalrewards.com/hotel-reservations?propCode=COU&groupCode=S04EAM6. Cut off date for room registration is March 25. Thursday's agenda includes a trip to the factory in Nebraska City for hands-on training and factory tour. As always, the school will start on Monday evening with a reception at Harrahs.
» Click here for a registration form (PDF format)
---
Milton-Roy/YZ NJEX Odorization Systems School: August 23rd-24th, 2016 - Devtech Training Center
This will be a 2-day school focused on the YZ NJEX odorization system and DTEX odorant detection system. System mechanical and electronic components will be covered including the N300 controller and Sentry software. This school is ideal for those that operate, specify, and/or make odorization equipment decisions.
» Click here for a registration form (MS Word format)
---
For more detailed information about our training seminars, please choose from the list below: