TRAINING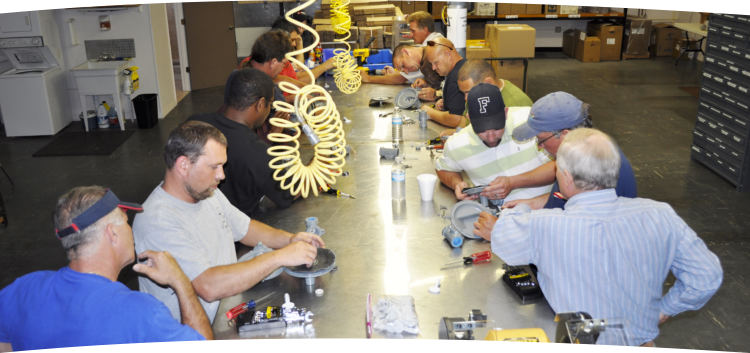 2013 Schedule
Gas Measurement School: March 25-26, 2013 - Devtech Training Center
This is a 2 day course focusing on the fundamentals of gas measurement. Topics include the function and handling of gas meters, sizing, pressure limits and capacities, pressure and temperature calculations, and explanation of error caused by measurementloss.
» Click here for a registration form (MS Word format)
---
Gas Regulator School: March 27-28, 2013 - Devtech Training Center
This is a 2 day course concentrating on gas regulators. Topics include function, construction, operation, capacities, and sizing of gas regulators as well as pertinent DOT and PSC regulations. It is suggested that students attend our Gas Measurement School prior to enrolling in this course.
» Click here for a registration form (MS Word format)
---
Milton-Roy / YZ Systems School: October 15-16, 2013 - Devtech Training Center
During this 2 day course we will discuss the systems overview, specifications, and basic operations of the YZ NJEX odorization system, DTEX odorant detection system, and Cyclone turbine meter oiling system. Technical Services Manager Mike Sanders of Milton-Roy and Richard Prince of Devtech will provide the instruction.
» Click here for a registration form (MS Word format)
---
Elster American Meter Nashville Measurement School: October 29-31, 2013 - Piedmont Natural Gas, Nashville, TN
Elster American Meter will conduct the 2013 Nashville Measurement School starting on October 29 and concluding on October 31. Classes will be held at Piedmont Natural Gas and lodging has been reserved at the Doubletree by Hilton in downtown Nashville. As in the past the classes will cover everything from theory to application to installation to troubleshooting. Cost of the school is $750 and this will include most meals, breaks, and class materials. A Welcoming Reception will be held on Monday evening at the Doubletree starting at 6:00. Below is a link to the registration form. Registration can also be completed on the Elster Gas Depot website at www.elstergasdepot.com.
» Click here for a registration form (PDF format)
---
For more detailed information about our training seminars, please choose from the list below: