DEVTECH ADVANTAGE
DEVTECH ADVANTAGE FEBRUARY 2017 NEWSLETTER
Posted on 2/1/2017 by Devtech

Devtech Advantage Newsletter - February 2017 - Edition 7
Posted by Devtech on 02-17-2017
Welcome to the first edition of the Devtech Advantage for 2017. A new year brings new challenges as well as exciting opportunities for the Florida Natural Gas Industry. Whether it is new products, new regulations, new pipelines, there is always something to look forward to. No matter if it is something to learn about or something to learn from, a new year brings about a fresh start. In this edition of the Devtech advantage we will be introducing a new and exciting product line, as well as featuring two of devtech's employees. Thank you very much for reading and here is to a safe and prosperous 2017!!
Sincerely,
John Paul Heston
Devtech Newsletter Editor
Central & South FL Sales Representative

---
Behind The Scenes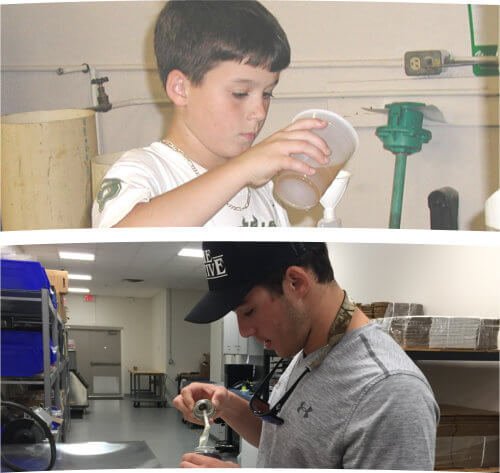 Paul Devlin then and now
Devtech has a new employee, and to most if not all of you the name will definitely ring a bell. Paul Devlin (Charles's Son) has joined the team as a part time employee in between classes. Paul is currently finishing up his AA degree at South Florida State College in Avon Park, and will be headed to USF in August to start on his Mechanical Engineering Degree. Paul is a big help around the office, whether it is something as small as sweeping the shop floor or to something as important as fulfilling a rush order for our valued customer's, he is ready to jump in and help. Paul is learning as much as he can now, and this coupled with his future engineering education will be a great jump start to the future of devtech!


---
2016 Employee of the Year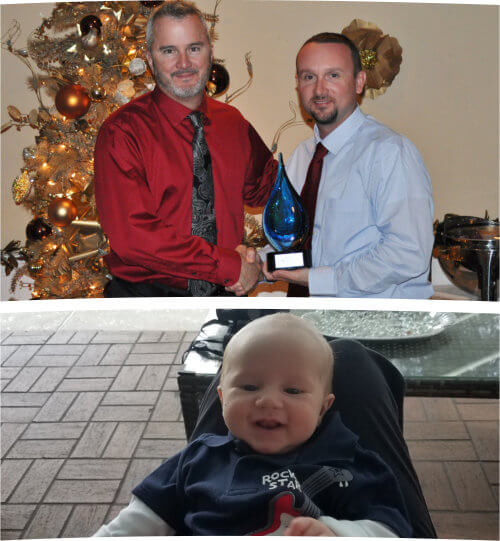 Charles Devlin and Doug Lemler / Baby Jaspar
Devtech is proud to announce Doug Lemler as the 2016 Employee of the Year. Doug received this honor due to the extra mile he goes for not only our valued customers, but also for his coworkers. He is always willing to lend a helping hand, and most of the time without even having to be asked. In his first full year at devtech Doug has really jumped into the gas industry with both feet. He truly understands the products, applications, and with this what our individual customer's needs are. With this being said, Doug had quite an eventful end to 2016. Not only had he just moved into his new home, wrapped up his first full year at devtech, being announced as the employee of the year, but he and his wife also celebrated the birth of their third child. Jasper was born on November 30th, weighing in at 8lbs and 20inches. We at devtech would like to congratulate Doug not only on the job he does day in and day out here at devtech, but also for the many blessings he has at home. Congratulations Doug, and here is to a great 2017!!
---
Ashcroft Products

Devtech is proud to announce that we have partnered with another great company to represent their products, and that company is Ashcroft. Ashcroft was founded in 1852 by Edward Ashcroft. Mr. Ashcroft's mission upon founding his company was to protect the steam powered industry and its workers by building more sophisticated and reliable instruments. In Ashcroft's words, "Protecting people, processes and profits - it's why we're here." This ties directly into the company's core values of today which are, think customer first, never settle, challenge status quo, and think beyond borders. Ashcroft's core aligns with devtech's on so many levels, and it just made sense for us to work together. Ashcroft obviously in today's market services more than just the steam market, and has a full line of pressure and temperature instruments. Devtech is most excited about the full line of superior gauges Ashcroft has in its catalog of products. For years Ashcroft has been known to have the premier mechanical gauge for all applications and especially in the natural gas industry. They have a full selection of gauges with different sizes, liquid filled, dry, stainless cases, phenolic cases, and the list goes on and on.
The Ashcroft product I would like to feature in the Devtech Advantage is a true advantage to our customer. The Ashcroft PLUS Performance gauge is a mechanical gauge that has all of the dampening and anti-vibration characteristics of a liquid filled gauge with no liquid. The patented Ashcroft PLUS Performance option utilizes a unique cartridge to surround the pinion with an engineered dampening agent to dynamically dampen the pointer and movement, thereby providing a dry gauge which acts like liquid filled. The benefits of utilizing dry gauges versus liquid filled are many, but below are just a few:
No liquid = No leaks
Easier to read
Easier to calibrate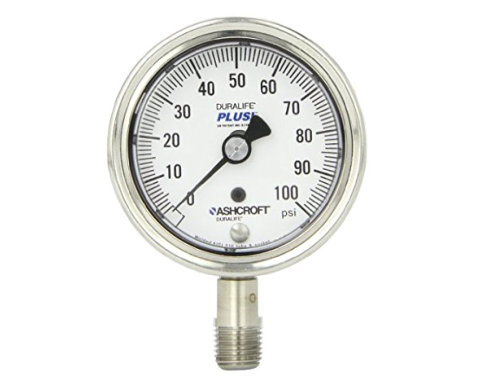 Thank you as always for reading, especially about our exciting new product line Ashcroft. Please reach out to anyone at devtech for any additional information, quotes, or just to chat.