DEVTECH ADVANTAGE

Devtech Advantage Newsletter - December 2019 - Edition 9
Posted by Devtech on 12-18-2019
Product Highlight: AC-250NX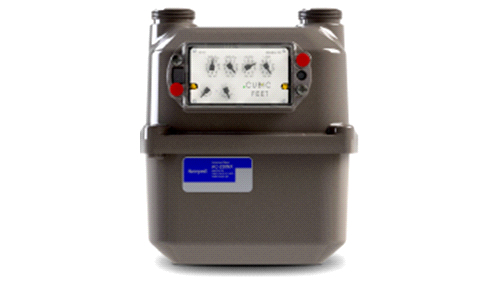 Since 1836, the American Meter brand has been synonymous with best-in-class hydrocarbon measurement. The most trusted meter on the market, the AC-250, has been exceeding the expectations of utility companies for decades. Devtech is pleased to introduce the next phase in the evolution of Honeywell Connected Utility solutions. The Honeywell American Meter AC-250NX- The New Standard for Residential Compact Metering.
Reliable - Accurate - Economical
Product Design Highlights
Die-cast aluminum case
Standard Form Factor
Single O-Ring Seal
Injection Molded, Convoluted rubber Diaphragm
Compact size-33% Smaller than AC-250
Lightweight
AMI/AMR compatible
Weather/Salt resistance
Faster re-calibration
Faster Servicing
Meets and exceeds ANSI B109.1 specifications
An injection molded, convoluted rubber diaphragm ensures a smooth, even stroke with less wear and greater precision over time. A single O-ring seal reduces potential leak paths for a safer and more environmentally-friendly solution. Standard form factor for indexes, drive rates, and top connections make the AC-250NX a direct-fit upgrade for almost any residential application.
» View the AC-250NX Diaphragm Meter YouTube Video
» View the AC-250NX Diaphragm Meter PDF
» View the AC-250NX Diaphragm Meter Specifications PDF


---
2019 Additions to the Devtech Family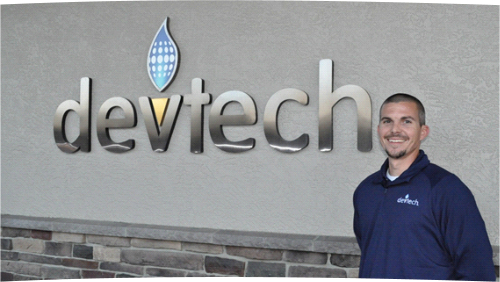 Brad Molinaro
Brad Molinaro started with Devtech on January 1, 2019. Brad was born in Winter Haven, FL and was raised in Sebring, FL where he graduated from Sebring High School. He married his wife, Brittany, in 2015 and they welcomed their first child, Braelynn, in December of 2016. Brad and Brittany moved from Sebring to Avon Park in March of 2018 to be closer to family. Brad is the brother-in-law of Devtech's Sales Manager, John Paul Heston. Brad and Brittany also just welcomed a baby boy, Braxton, into their family in September. Brad is currently working side by side with Doug in the office as an inside salesman. Brad has done a great job in his first year at Devtech with the shipping, receiving, quotes, purchasing, etc. We are pleased to have him as part of the Devtech team. Welcome to the family Brad!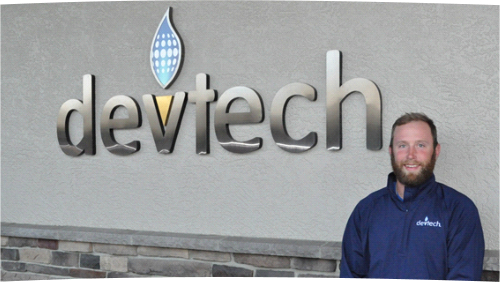 Jake Hoffman
Like Brad, Jake Hoffman also started with Devtech January 1, 2019. Jake was born in Hamilton, OH and during his childhood moved to Bell, FL. Jake went on to graduate from Bell High School and later moved to Wimauma, FL (near Tampa) for work opportunities. While there, he met his wife who at the time was at school in Tampa (USF), Teresa (Devlin) Hoffman. Teresa, daughter of Charles and Stephanie Devlin, is also a Devtech employee. Jake moved to Avon Park in December of 2018 and he and Teresa got married in November of this year. In his free time, Jake steer wrestles in PRCA rodeos around the Southeast. Before transitioning to Devtech, Jake worked for Precision Meter Repair in Plant City, FL where he was a natural gas field technician that changed out residential gas meters. Jake is currently working along side Richard Prince in the field as a technician. Jake has really excelled under the training of Richard and has done a great job on YZ odorizer maintence, installations, and service. We are pleased to have him as an addition this year! Welcome Jake!


---
Devtech Upcoming Training Opportunities
Devtech feels that training and continuing education is key to the advancement of the natural gas industry. For this reason we have our Jim Estilette Training Center. So far this year we have held measurement & regulator schools, Flow Safe Relief Valve School, upcoming we have Basic Corrosion School followed shortly after by a one day seminar featuring Honeywell Instromet Ultrasonic meters. The Basic Corrosion School will be taught by none other than Buddy Hutson and is a great introduction into the art of protecting pipelines. The Honeywell Instromet Ultrasonic Seminar is being offered by Devtech & Honeywell and at no charge. We will have members of the Honeywell team at the Jim Estilette Training center presenting hardware & software functionality for the Q-Sonic Plus as well as the legacy Instromet ultrasonic meters. Please visit our training page for registration information. Also, we are always open to hosting classes that our customers feel would be beneficial to their success. Please reach out to any Devtech employee with your ideas and we will work on putting a course together to fit your needs.