DEVTECH ADVANTAGE
DEVTECH ADVANTAGE JUNE 2016 NEWSLETTER
Posted on 6/1/2016 by Devtech

Devtech Advantage Newsletter - June 2016 - Edition 6
Posted by Devtech on 06-14-2016
Welcome to the sixth and summer edition of the Devtech Advantage Newsletter. This summer is getting off to a hot and wet start as most of FL has seen record rainfall during the months of May & June. With this being said the work must go on.
In this edition of the Devtech Advantage Newsletter we will go over a recent award that devtech was honored to receive, a congratulations for the 2015 employee of the year, a new building update, as well as a great tool to beat the heat when it comes to testing rotary meters in the field.
I would like to take this time to open the floor for any training suggestions for the upcoming year. Devtech will be opening a state of the art training center in our new facility and will be open to hosting any type of training our customers feel there is a need for. Please do not be shy in offering up ideas as if there is interest we will make it happen. Thank you as always for reading this edition of the Devtech Advantage Newsletter, and we all hope you have a safe and fun summer.
Sincerely,
John Paul Heston
Devtech Newsletter Editor
Central & South FL Sales Representative

---
Behind the Scenes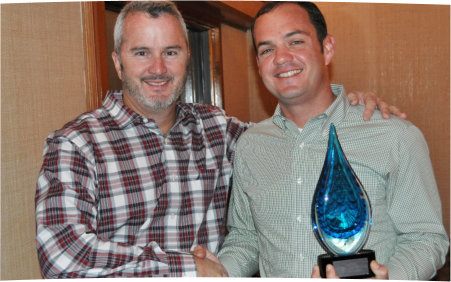 Devtech is proud to announce the 2015 Employee of the year recipient is John Paul Heston. We are proud of the hard work John Paul displays on a day to day basis, and honored to present him with this award for the second time in five years. We look forward to what the future holds for John Paul, and congratulations once again!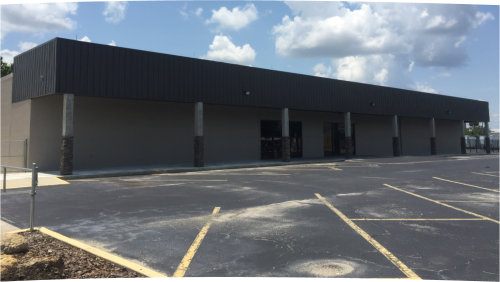 Behind the scenes building update is back, and boy are we getting close. As you can see from the picture above, the front of the building received a face lift thanks to the help of some beautiful stone around the columns. Currently new carpet is being installed, and our brand new training center is being built out with the consideration of our prospective students being thought about with every decision made. We are on track to be moved in by early fall, and we look forward to having everyone join us for a tour on their trips through Central FL. The next time a building update is published it will be the final draft as we will be all moved in.


---
Devtech: 2016 USF Fast 56 Award Recipient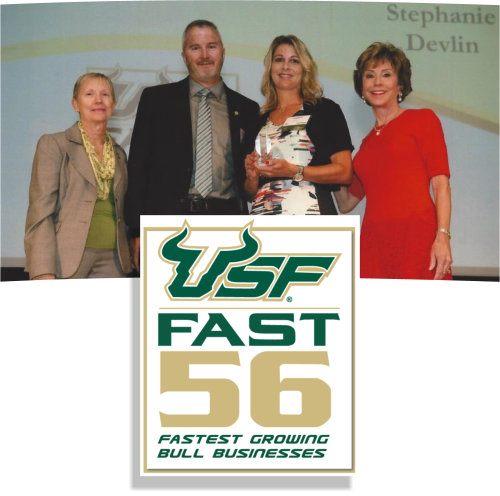 (Pictured from L-R, Alumni Association Board of Directors Chair/Betty Otter-Nickerson, Charles Devlin, Stephanie Devlin, USF President/Judy Genshaft)
As many of you know Charles Devlin which is the President/Owner of devtech and his wife Stephanie are both University of South Florida Alumni. Earlier this year devtech was nominated for the 2016 USF Fast 56 Award. This award recognizes businesses owned by USF alumni, and the growth that these companies have earned through the years. On April 29th, Charles and Stephanie accepted the award for devtech and were quite honored in the process. Devtech would like to thank our customers for the continued loyalty and confidence you have placed in us, and we look forward to continuing to serve your needs well into the future. Without the great customers we have moments like this would not be possible. On behalf of Charles, Stephanie, and the whole devtech team, thank you for helping us achieve the honor of the 2016 USF Fast 56 Award.
---
Meriam M201 Rotary Meter Tester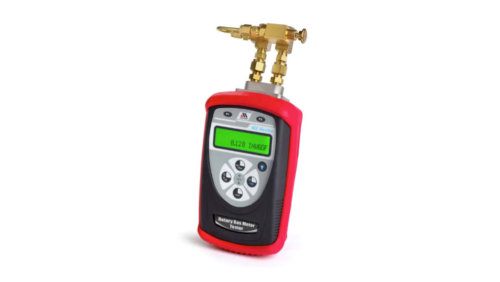 The Meriam M201 Rotary Meter Tester from Meriam Process Technologies is a wonderful "money-making" tool for natural gas utilities. One might ask "money-making?" Most of a utility's mediums to large industrial customers have a rotary meter installed outside of their business. These meters as regulated by the PSC have to be proved once every 5 years. Within this 5 year time period there are a lot of unknown variables that go on within a gas system which can affect the accuracy of a rotary meter. With this being said a rotary meter's accuracy remains constant over an extended period of time with really only 3 conditions affecting its accuracy. These 3 conditions are change in static displacement, enlarging meter clearances, and an increase in the meter's internal resistance. The main condition which causes the most damage and lost revenue is the increase in a rotary meter's internal resistance.
A change in a rotary meter's internal resistance can be caused several ways including, binding of impellers, worn bearings, too much oil, not enough oil, and trash getting into the rotors. In all of the above events the differential pressure across a rotary meter will be affected. When the differential pressure across a rotary meter is affected the meter never speeds up, but rather slows down and in turn possibly costing a gas utility thousands over time.
This is where the Meriam M201 Rotary Meter Tester comes into play. This low cost (compared to a transfer prover) piece of equipment is very user friendly and makes for a very fast and accurate inferential test of a rotary meter. What I mean by inferential test is that by testing the differential pressure across a rotary meter and the amount being acceptable per the meter manufacturer's standards one can in turn infer that the meter is accurate and so be it the other way around. The M201 has an accuracy of +/- 0.05% and is field calibratable, so accuracy of a test should never be an issue.
It has been proven over and over again that the testing of differential pressure across a rotary meter is an effective method of inferring that a rotary meter is accurate and/or inaccurate. These tests can in some instances be completed in less than five minutes and can save a utility thousands of dollars, while at the same time beating that summer heat. Using this proven technology on a more frequent basis than transfer proving can and will prove beneficial to any utility big or small.