DEVTECH ADVANTAGE
DEVTECH ADVANTAGE JUNE 2015 NEWSLETTER
Posted on 6/1/2015 by Devtech

Devtech Advantage Newsletter - June 2015
Posted by Devtech on 06-29-2015
Well, the summer is definitely upon us! This is great for weekend fun in the sun, but as we know all too well not so great for O&M & field work. So what I recommend is sit in your office, truck, house, kick back and take in the 2nd Edition of the "Devtech Advantage Newsletter."
In this newsletter we are going to go over a wide range of items from filtration, advantages of prefabs, and an in depth bio of one of our team members John Caputo.
I would like to personally thank everyone for reading our Inaugural Newsletter, and I hope you find that these get better and better over time. I am not going to promise anything, but I will do my best to peak your interest at least one time every three months.
Thank you in advance for clicking and reading and while you are here, please take some time to explore the rest of Devtech's website and see what we have to offer to Florida's natural gas industry.
Sincerely,
John Paul Heston
Devtech Newsletter Editor
Central & South FL Sales Representative

---
Behind the Scenes
One of our goals in releasing the "Devtech Advantage" newsletter is to offer some insight into our company that everyone may not know, and that includes our employees. Over the next few newsletters I will be asking all employees of devtech to offer a bio so you can get to know them not only as the guy that answers the phone, or the salesman that calls on you, but also as the person they grew up as and what they enjoy doing outside of the workplace. First up is our Inside Sales Representative, John Caputo. John has been with devtech since day one, January 1st 2011. John is a dedicated employee that keeps the office running, quotes and orders moving out the door, and anything else he is asked to do. John wears many hats as most do in small companies, and excels at all (except when you need him to get that item off of the top shelf). Please see John's bio below, and in the next edition we will be getting to know Charles Devlin (President & Owner of Devtech). Enjoy!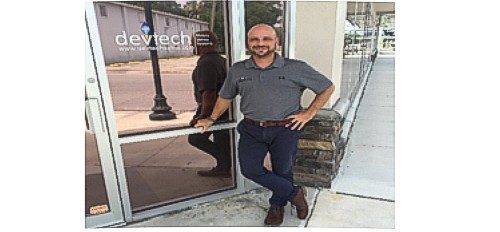 John Caputo
John Caputo Bio
Born and raised in upstate New York (Utica). Fondest memories growing up were of the summers we spent in our cabin/summerhouse in the foothills of the Adirondack Mountains. Moved with my family to Florida when I was 15, to be closer to my grandparents. I have three younger brothers that all live in Central Florida and I enjoy spending time with them as much as possible. Lived in Tallahassee for a while and attended Florida State. I am most happy spending time with my kids and wife, spending time at the lake, the beach, or attending soccer matches or cheer competitions. Enjoy golf, fishing, coaching youth sports, and reading.
---
Fabrication is "Our Business"
Fabrication has been at the core of devtech's business for decades. Over the years, we have aligned ourselves with manufacturers and fabricators that have a similar market outlook, similar values, and emphasize quality and long term success over low bid/short term gain. With this being said I would like to show in this article the advantages of using our team for your fabrication needs, and what we bring to the table for each and every customer and project. Below are some key bullet points to think about when exploring your fabrication needs:
Decades of experience in fabrication
Local Florida representative with technical sales and service
Intimate knowledge of customer specs and preferences
High quality welding, fabrication, assembly, and packaging for shipping
Full engineering, design, and CAD staffs
Premium factory coating process designed and proven to hold up in Florida's climate
Thorough understanding of meters, regulators, valves, filtration, etc…
Measurement, control, and systems experts
Field start-up and training available by our devtech OQ and factory certified technician
Ongoing training available both on-site and via our training facility
Longtime supporter of Florida's natural gas industry
These items coupled with the fact that we have been around for the past 38 years and will be here many more years to come we feel give us an edge in the fabrication business. This business requires close relationships with our customers and as you read in the inaugural newsletter, this is the reason we wake up and go to work every day. Fabrication is at the core of our business, and we hope it shows through our quality and willingness to be there for our customers.
Please take a moment to view more project pictures like the one below under the systems tab of our website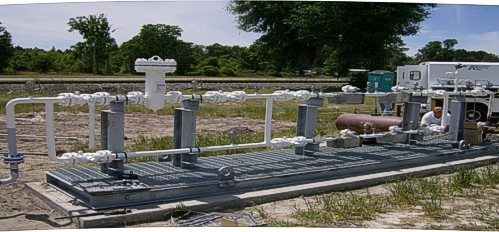 ---
Not All Filters Are Created Equally
written by Steve Baltzley
In my last article we discussed the basics of filtration, in this article we will go a little further to discuss the types of filters used in the natural gas industry.
First - where are you going to filter? Is it at the main gate station from the pipeline supplier or it an industrial account, electric generating station or commercial account?
As with any filter we must know what we are going to be removing from the gas stream. Remember, with so much gas available today and pipeline development you can never count on the same quality of gas you might have been getting for years. Depending on the customer's needs an analysis must be run on the gas to be filtered to determine the filter needed.
Now that we have identified the contaminants we will need to gather a little more information before we can start to size the filter such as pressure, temperature, specific gravity and velocity. This information will give us a starting point to determine the type and size.
Let's start with the entry point into your system. We have the information we need to size a filter for the station. First we need to know what we are going to protect. It is not always necessary to provide the highest level of filtration at the main gate station. In most cases we can use a knock out tank to capture an upset condition and a standard or coalescing filter. Some filters are large enough to perform this task in one vessel but depending on the manufacturer, you might have to use multiple vessels for this process. In most cases this will provide a level of protection for your measurement and pressure reducing equipment. Remember, all the information we gather is just a starting point. At any time we can encounter an upset condition that could change the original conditions we sized the equipment for. If this occurs and your current equipment cannot remove the contaminates for whatever reason you might have to change out elements more frequently until the upset is over or re-evaluate your filtration requirements.
Next we need to identify our customer's needs. Larger customers such as electric generating plants, will have to ensure the natural gas entering the equipment is filtered and treated to meet the manufacturer's requirements. All contaminants and liquids must be removed at this point and a complex mix of equipment might have to be utilized to obtain the quality of gas they require. This could require the utility to install a single or multistage coalescing filter along with a dryer and secondary filtration after the dryer to capture and clean up the end of treatment. In any case the customer needs will dictate the level of filtration needed for their process.
Industrial and large commercial accounts usually require filtration. This is really to protect the utilities equipment as well as the customers. Most large industrial and commercial customers will have a measurement and regulator station specifically designed to their process. If the pipeline provided to the customer is directly off of the transmission company then considerations must be made like we discussed above. If they are connected to the utility pipeline after the first level of treatment then it may not be necessary to provide that level of in-depth filtration. In this case you will need to determine if a standard pleated gas filter is adequate or a coalescing type filter is required. In any case, ALWAYS install a filter on a large volume customer. You can never guarantee the pipeline condition, whether it is a transmission company or utility pipeline. Conditions change for many reasons, it's always good practice to install a filter for these accounts.
Smaller commercial accounts should have the same considerations for filtration. I would consider a filter with an inlet piping of 3" or larger. Usually these use more gas and have snap action loads. Pipe velocities from these loads can pull trash and damage pressure reducing and measurement equipment. Customers below 3" I would consider a filter depending on the application but at the very least install a pipe strainer. Remember, you want to protect your equipment to provide equipment longevity while maintaining accuracy.
Now that we have identified the gas quality and conditions, let's discuss filter types. There are several manufacturers that sell filtration equipment. But for the sake of argument let's discuss the types we usually encounter in our industry. Manufacturers will argue that filters no matter the type and size have many stages to filtration but to simplify things I will refer to them as single and multi-stage. The most common is a single stage filter, they can have threaded connections as well as flanged. Filters 3" and larger have flanged connections and come with elements for the condition you want to filter. Pipeline trash such as dirt, scale and anything dry and solid would use a pleated type element. Usually they come standard with a 10 micron element. These filters can also come with many closure styles. Smaller hanging type dry particulate filters can come with a swing type enclosure or flanged top, see illustration below. Remember, the styles may vary by manufacturer and these are just some of the styles you may encounter.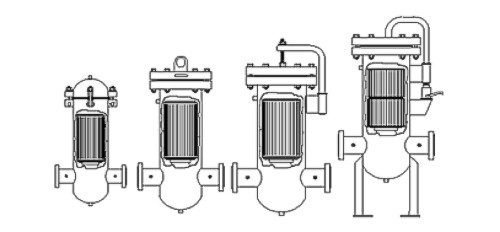 While other conditions that have a wetter gas that would require a coalescing type synthetic element. These type of filters I consider to be multi-stage. The coalescing filter removes inorganic contaminants as well as liquids from the gas stream. The coalescing type in the smaller designs also have several styles, see illustration below.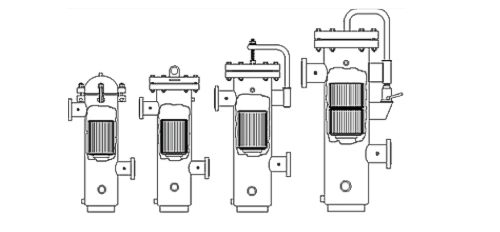 Remember, unlike the single stage dry filter, the coalescing type filter will have to be drained manually or have automatic dump valves installed to remove the liquids.
Below are other styles of coalescing or multi-stage filters you would encounter at gate stations and large industrial accounts.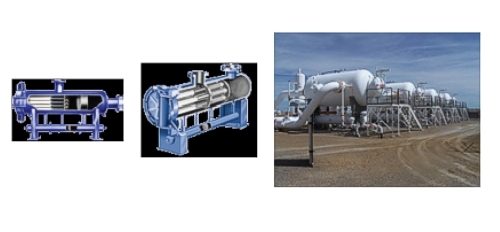 In this article I just scratched the surface on the types of filtration you will or could encounter at any gate station or large industrial account. There are so many applications and variable's to consider and we will go over these in my last article. Remember this, natural gas conditions are ever changing. What works today may not work in tomorrow's application so it is important to understand that we must always be ready for change. Understanding where to look or who to contact is just as important as the information needed to determine the type of filter needed. Devtech is the leading manufacturer's representative of engineered products in the State of Florida as well as filtration and filtration skids. We will work with you to determine the right filter/filtration skid for your application.